At DiscountedLabs.com, we believe that everyone deserves access to affordable and reliable lab tests. As an 8-year-old company, we have been committed to bringing you the best prices on blood tests without a doctor's visit. Our services are available nationwide, and we offer a wide range of medical testing options to suit your needs. Our in-house doctor provides a prescription at no extra cost, and our blood tests are FDA approved. There are no hidden costs, and a $8 lab draw fee is added to your order. We are HIPAA compliant and dedicated to protecting your privacy. We are proud to offer our customers up to 80% off on lab tests over retail prices. Don't wait any longer, order your affordable lab tests today and take control of your health
Over the last eight years, we've made it our mission to ensure everyone can monitor their health without going broke. And that means starting with the basics: blood tests. We also want to make sure we have the best customer support experience in the field.
We know that high costs are keeping people from getting the care they need—and without regular lab testing, it's challenging to know what's going on inside your body. That's why we offer an extensive selection of affordable blood tests at every age and stage so you can stay healthy no matter what happens.
Our prices are frequently less than people's insurance co-pays for lab testing. You can save money on doctor visit copays because we do not demand a doctor's appointment. Some consumers have discovered that their insurance companies are unwilling to cover particular blood tests or the required frequency of blood tests for adequate monitoring. To help you take control of your health, DiscountedLabs.com offers reasonable online blood testing.
We at DiscountedLabs.com think that information is power. Patients who are informed can better manage their health and communicate with their doctors about medical difficulties.
We're here for anyone who needs help managing their health—and we want to hear from you! If any particular tests you'd like us to add or questions about our services aren't answered here, please feel free to reach out anytime at [email protected].
Our order process for discounted labs is simple. Just choose your blood test and order it. You will receive a confirmation email with a lab form that you take to your closest lab location. This location can be searched in the "Find a location" page tab Find a location."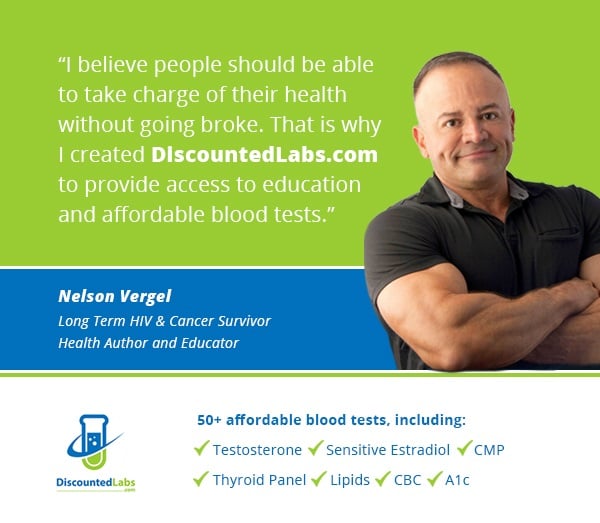 What States Does Discounted Labs Serve?
You can find one of one local lab test center in most states, and we are expanding rapidly. If you live in one of the following states, you can take advantage of our discounted blood work:
Alabama, Arkansas, California, Colorado, Connecticut, Florida, Georgia, Illinois, Indiana, Iowa, Kansas, Kentucky, Louisiana, Maine, Maryland, Massachusetts, Michigan, Minnesota, Missouri, Montana, Nebraska, Nevada, North Carolina, New Mexico, Ohio, Oregon, Pennsylvania, South Carolina, Tennessee, Texas, Utah, Virginia, Washington, and West Virginia.
Due to state legislation, we cannot serve the following states: NY, NJ, RI, and AZ. There are no lab locations in Hawaii.
Why DiscountedLabs.com?
We Have the Most Affordable Lab Tests Available in the U.S.
No Doctor Visit is Required. Our In-House Doctor Provides a Prescription at No Extra Cost to You.
Private and Confidential Lab Test Results.
We Serve Most U.S. States.
In Operation for Over 8 Years.
Orders are Valid for 6 Months.
Simple Menu and Process. Order 24/7
You Get a Lab Requisition Form A Few Minutes After Your Order. No, Wait.
No Hidden Costs. An $8 Lab Draw Fee is Added to Your Order.
Our Blood Tests are FDA Approved.
We are HIPAA Compliant. We Protect Your Privacy.
Your Order is Good for 180 Days. You Do Not Have to Rush to the Lab.
Over 1,900 Lab Locations Around the United States.
No Appointment is Needed. Walk-ins Welcomed.
Your Blood Test Results are Delivered by Private Email.
We Provide Hormone Testing Via Sensitive LC/MS Assays. We avoid less accurate testing.
We Have Created Blood Test Panels Applied to Different Needs.
Discount Coupons Emailed Periodically.
Educational Videos and Articles are Provided on Our Blog Page
We Educate Consumers on How to Interpret Lab Test Results with Their Physicians.
We Provide Resources for Clinical Care and Consumer Forums on Our Resources Page
Here is a VIDEO DESCRIBING HOW WE WORK: HOW TO ORDER DISCOUNTED LABS ONLINE
Testimonials


READ MORE DISCOUNTED LABS REVIEWS