Discounted Labs has been in operation for over 8 years. It was founded by empowered patients like you and physicians that believe in expanding access to affordable health monitoring options.
At DiscountedLabs.com we believe that knowledge is power. We believe that educated patients can take charge of their health and are able to discuss health issues more effectively with their physicians.
Many people find our prices lower than their insurance co-pays for lab tests. Since we do not require a doctor's visit, you can save money on physician visit copays. Some people have found out than their insurance companies are not willing to pay for certain blood tests or the blood testing required frequency for proper monitoring. That is where DiscountedLabs.com comes in to provide affordable online blood tests so that you can take charge of your health.
The order process for discounted labs if simple by using a credit card. Just choose your blood test and order it. You will receive a confirmation email with a lab form that you take to your closest lab location. This location can be searched in the page tab entitled "Find a location".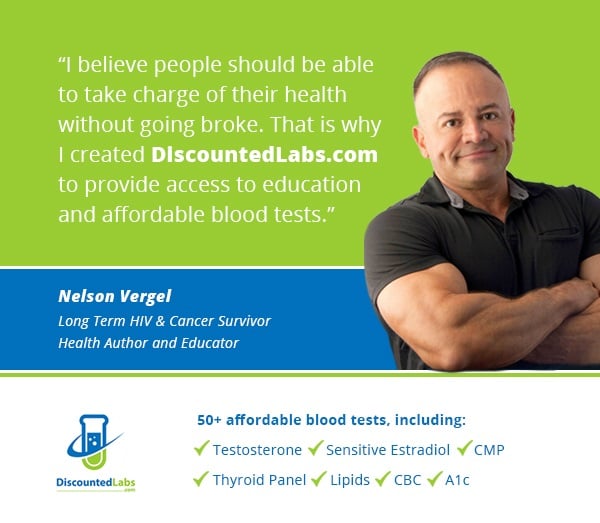 What States Does Discounted Labs Serve?
You can find one of one local lab test centers in most states and we are expanding rapidly. If you live in one of the following states, you can take advantage of our discounted blood work:
Alabama, Arkansas, California, Colorado, Connecticut, Florida, Georgia, Illinois, Indiana, Iowa, Kansas, Kentucky, Louisiana, Maine, Maryland, Massachusetts, Michigan, Minnesota, Missouri, Montana, Nebraska, Nevada, North Carolina, New Mexico, Ohio, Oregon, Pennsylvania, South Carolina, Tennessee, Texas, Utah, Virginia, Washington, and West Virginia.
Why DiscountedLabs.com?
We Have the Most Affordable Lab Tests Available in the U.S.
No Doctor Visit is Required. Our In-House Doctor Provides Prescription at No extra Cost to You.
Private and Confidential Lab Test Results.
We Serve Most U.S. States.
In Operation for Over 8 Years.
Orders Valid for 6 Months.
Simple Menu and Process. Order 24/7
You Get a Lab Requisition Form A Few Minutes After Your Order. No Wait.
No Hidden Costs. A $8 Lab Draw Fee is Added to Your Order.
Our Blood Tests are FDA Approved.
We are HIPAA Compliant. We Protect Your Privacy.
Your Order Good for 180 Days. You Do Not Have to Rush to the Lab.
Over 1,900 Lab Locations Around the United States.
No Appointment Needed. Walk-ins Welcomed.
Your Blood Test Results are Delivered by Private Email.
We Provide Hormone Testing Via Sensitive LC/MS Assays. We avoid less accurate testing.
We Have Created Blood Test Panels Applied to Different Needs.
Discount Coupons Emailed Periodically.
Educational Videos and Articles are Provided in Our Blog Page
We Educate Consumers on How to Interpret Lab Test Results with Their Physicians.
We Provide Resources for Clinical Care and Consumer Forums in Our Resources Page
Here is a VIDEO DESCRIBING HOW WE WORK: HOW TO ORDER DISCOUNTED LABS ONLINE
Testimonials


READ MORE DISCOUNTED LABS REVIEWS