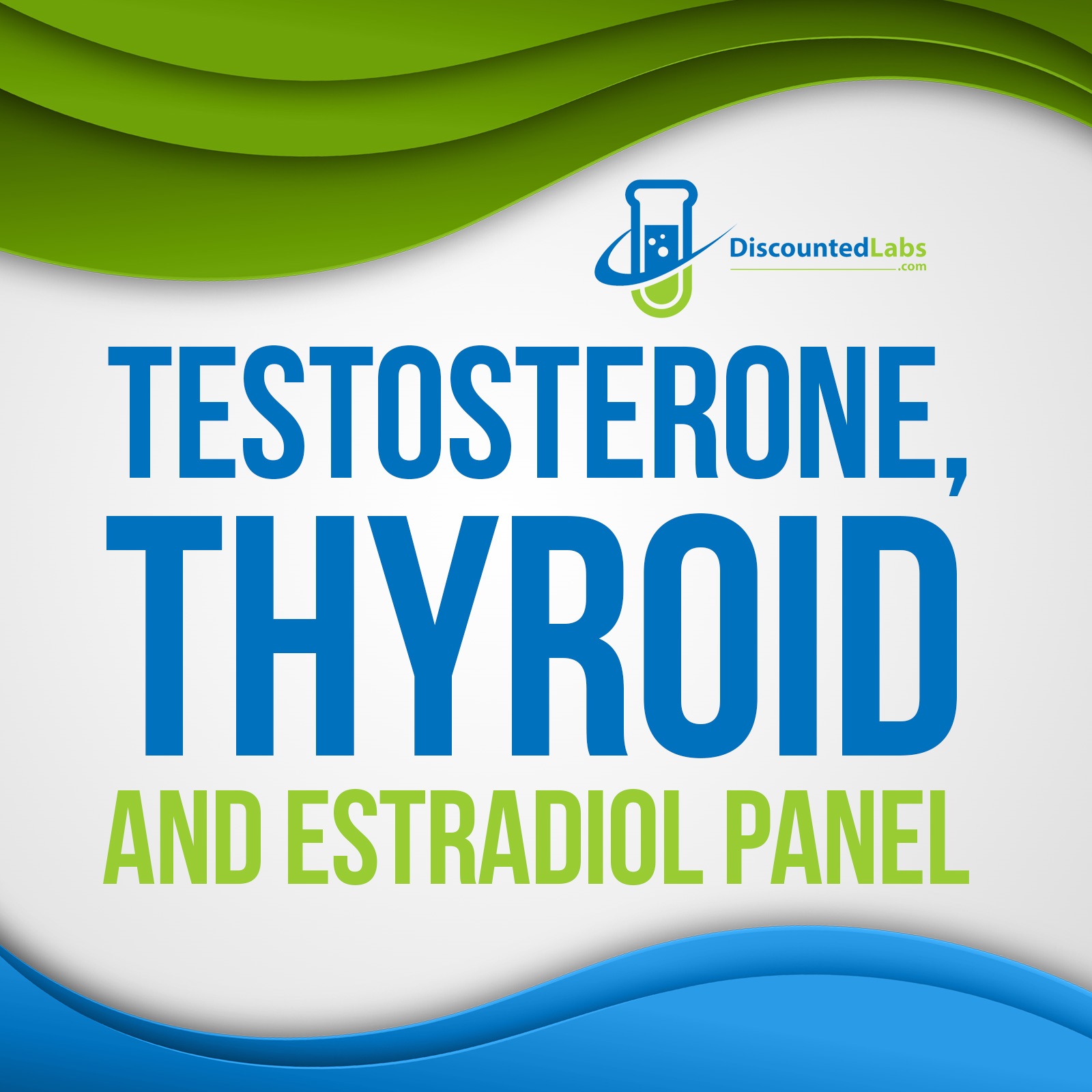 Ordering these 5 hormone tests as a panel saves you $10 when comparing it to buying tests separately.
- Total and Free Testosterone ( LC/MS assay that can measure with no upper limit)
This test measures both total and free testosterone by the most liquid chromatography/ mass spectrometry with no upper limit (suitable even for TT levels above 1500 nd/dL)
- TSH, free T4 and free T3
This panel includes comprehensive testing of the thyroid stimulating hormone (TSH) in addition to free thyroxine (T4) and free triiodothyronine (T3). When the thyroid gland does not produce enough hormone, the body uses energy at a slower pace than it should. This condition, underactive thyroid, is called hypothyroidism.
- Sensitive Estradiol (LC/MS)
Estradiol is produced by the body via the aromatization of testosterone in fat tissue, liver, and testicles. Estradiol is involved in bone health, cognitive function, sex drive, and body composition in both men and women. Depending on lifestyle factors, liver Issues, medications, body fat mass, and genetics, some people may have higher estradiol conversions from testosterone.
The commonly used estradiol test may overestimate estradiol. That test uses immunoassay technology that cannot differentiate C-Reactive Protein (involved in inflammation) from estradiol, so it reads the combination of the two as estradiol. This ultra-sensitive estradiol test is based on liquid chromatography/mass spectrometry (LC/MS), an assay technology that does not have that limitation.
NOTE: If you are taking biotin, please stop it 72 hours before the blood draw since it may interfere with hormone blood tests.
First time customer? Please read this before ordering: How Does Discounted Labs Work?
IMPORTANT: We pride ourselves to have the best prices available in most U.S. states. However, due to local regulations we cannot serve customers in NY, NJ, MA, NH and RI. No lab locations in HI and VT. Also, please avoid using AOL email accounts to place order since we have had many issues with that company's spam filters.
HOW DOES DISCOUNTEDLABS.COM WORK?
1- Go to the "Find a Location" page to find the closest Labcorp location. NOTE: We serve all states in the U.S. except New York, New Jersey, Massachusetts, New Hampshire, Rhode Island, Maine, Vermont, and Hawaii.
2- Go to "Choose a Test" and add your selection (s) in the shopping cart.
3- If you have a discount coupon code, add it to your cart.
4- Pay using a credit card or Paypal.
5- You will receive order confirmation and a lab request emails within 24 business hours. You can also download it by logging in your account and clicking on My Labs
6- Print lab request form attached to the lab request form email (PDF file).
7- Take that form to the closest lab with a picture ID. Get your blood drawn. No lab fee is required.
8- Your results will be emailed to you within 5-7 business days (depending on the test). Note: You can also download them when they are ready by going to your account and clicking on My Labs.