You can use Discount coupons at Discounted Labs, the leading provider of blood tests that you can purchase without the need of a doctor's visit. We provide a doctor's order included in the lab test price. No lab test or any other fees will be charged to you at the lab. No surprises.
Our range of FDA-approved self-pay blood tests can help you to identify underlying health issues and are an important means of staying at the peak of physical wellness. Your lab test results are private, so only you see them.
Ordering lab tests online has never been easier than it is today. With our easy-to-use website, all you have to do is select the type of test you want and enter some basic information about yourself before submitting an order through a credit card. Your results will be sent directly to your email inbox as soon as they are ready! All orders come with a 100% money back guarantee if we don't deliver what we promise.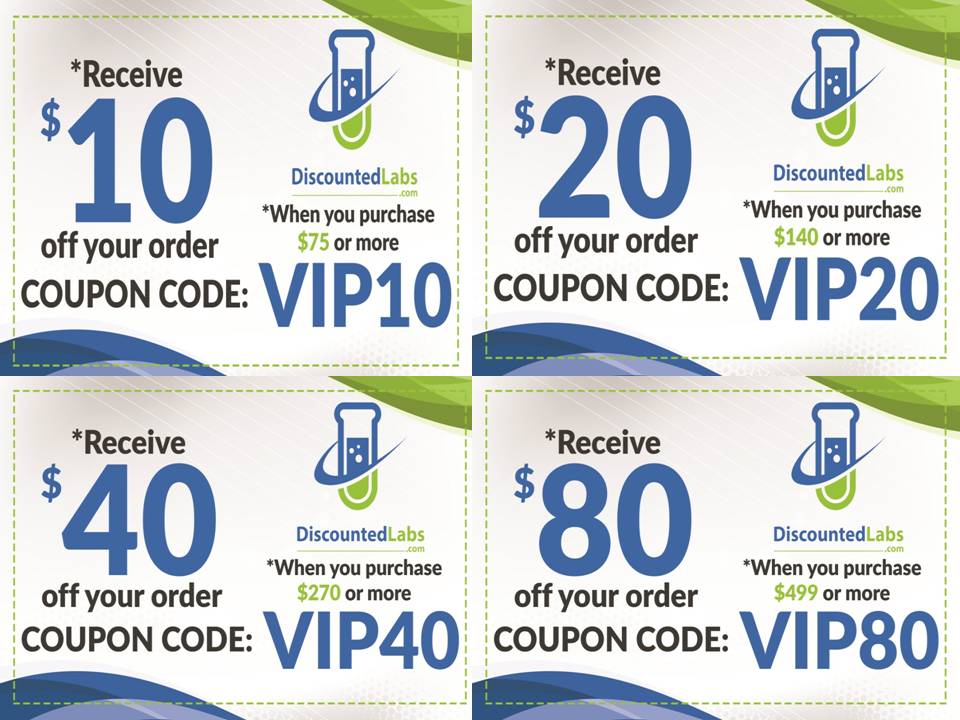 Discounted Labs has been in operation for over 8 years. It was founded by empowered patients and physicians who believe in expanding access to affordable health monitoring options.
At DiscountedLabs.com we believe that knowledge is power. Educated patients can take charge of their health and are able to discuss health issues more effectively with their physicians.
Many people find our prices lower than their insurance co-pays for lab tests. Since we do not require a doctor's visit, you can save money on physician visit copays. Some people have found out that their insurance companies are not willing to pay for certain blood tests or the blood testing required frequency for proper monitoring. That is where DiscountedLabs.com provides affordable online blood tests so you can take charge of your health.
The order process for discounted labs is simple by using a credit card. Just choose your blood test and order it. You will receive a confirmation email with a lab form that you take to your closest lab location. This location can be searched in the page tab entitled "Find a location".
Why DiscountedLabs.com?
We Have the Most Affordable Lab Tests Available in the U.S.
No Doctor Visit is Required. Our In-House Doctor Provides a Prescription at No Extra Cost to You.
Private and Confidential Lab Test Results.
We Serve Most U.S. States.
In Operation for Over 8 Years.
Orders Valid for 6 Months.
Simple Menu and Process. Order 24/7
You Get a Lab Requisition Form A Few Minutes After Your Order. No Wait.
No Hidden Costs. A $8 Lab Draw Fee is Added to Your Order.
Our Blood Tests are FDA Approved.
We are HIPAA Compliant. We Protect Your Privacy.
Your Order Good for 180 Days. You Do Not Have to Rush to the Lab.
Over 1,900 Lab Locations Around the United States.
No Appointment Needed. Walk-ins Welcomed.
Your Blood Test Results are Delivered by Private Email.
We Provide Hormone Testing Via Sensitive LC/MS Assays. We avoid less accurate testing.
We Have Created Blood Test Panels Applied to Different Needs.
Discount Coupons Emailed Periodically.
Educational Videos and Articles are Provided in Our Blog Page
We Educate Consumers on How to Interpret Lab Test Results with Their Physicians.
We Provide Resources for Clinical Care and Consumer Forums in Our Resources Page
Here is a VIDEO DESCRIBING HOW WE WORK: HOW TO ORDER DISCOUNTED LABS ONLINE
HOW DOES DISCOUNTEDLABS.COM WORK?
1- Go to the "Find a Location" page to make sure we serve your state and that there is a location near you.
2- Go to "Choose a Test" and add your selection (s) in the shopping cart. You can also save money by buying bundled lab test panels.
3- If you have a discount coupon code, add it to your cart.
4- If you don't have an account with us, you will be asked to create one by adding your name, address, gender, and date of birth.
5- Place your order by using a credit card.
6- You will receive three emails: an order confirmation & detailed instructions within minutes about how to download your lab requisition form to take to the lab near you.
7- Print the lab requisition form (PDF file).
8- Take that form to the lab near you with a picture ID. You can walk in but we suggest that you make an appointment to cut down on potential waiting (instructions on how to do so are in our "Find a Location" page). Get your blood drawn at the lab.
9- Your results will be ready within 3-7 business days (Depending on the test. Sensitive hormone tests done by liquid chromatography/mass spectrometry LC/MS take 5-7 business days). You will received them by email as soon as they come in.
If you have any questions, please visit our FAQ page or email us at [email protected]